Temperament: understanding your child's unique personality
Feb 13, 2015 Information sheet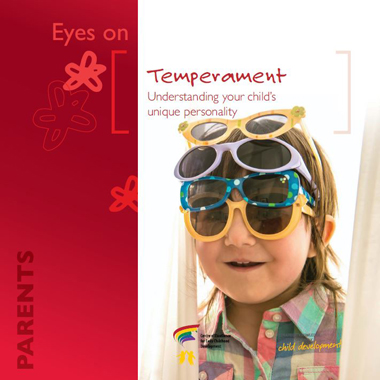 Information Sheet for Parents on TEMPERAMENT (Revised Edition)
This information sheet is also available in Spanish and Portuguese.
Did you know that temperament differences are noticeable early in life? Would you say your child feels comfortable in the presence of others or rather that s/he becomes fearful? Children's temperament and developmental outcomes (ex. fearfulness) can be changed naturally over time. In fact, with lots of support, affection, clear limits and positive discipline, parents can mitigate some of the more challenging aspects of their child's temperament.
To learn more on TEMPERAMENT, a topic updated by Mary K. Rothbart, PhD, read the Experts' texts and the synthesis dans l'Encyclopédie.
Contact us at cedje-ceecd@umontreal.ca to get free paper copies of this information sheet. 
      
---
We are grateful to The Lawson Foundation for funding the update of this information sheet.